Benefits of EverGuard® TPO 60-mil Membrane include:
Great Value:  Superior performance at a cost-effective price.
Excellent Seam Strength:  Heat-welded seams provide greater seam strength to taped and other seams.
Long-term Weathering:  Excellent long-term heat and UV resistance.
Outperforms standard TPO in heat aging and UV tests —the best predictors of performance- Independent TPO Study proves EverGuard® TPO 60 mil Membrane is the best standard TPO in accelerated aging. View the key findings and full study here.- After accelerated heat aging at 275°F (135°C) for 112 days, EverGuard® TPO showed no cracking—while every one of the competitors' samples had failed!- UV testing—Greater than 2.5 times the industry standard (ASTM D6878 weather resistance test
Energy Saving:  Highly reflective and emissive white roof can help reduce energy costs and urban heat island effect.
NSF/ANSI 347:  Providing architects and contractors with a certified sustainable option for single-ply roofing membranes.
Warrantees are available up to 20 years when using EverGuard®
Easier to install due to:– Large welding window– Most complete line of accessories– 10′ (3.05 m) wide sheets
HPDs:  Only single-ply roofing manufacturer that publishes Health Product Declarations (HPDs) for transparent reporting and LEED® v4 compliance.
EPDs:  Publishes Environmental Product Declarations (EPDs) for Single-Ply Roofing Membranes
Our most popular TPO products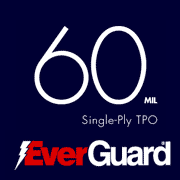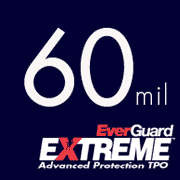 Call for a quote today 0800 42 33 55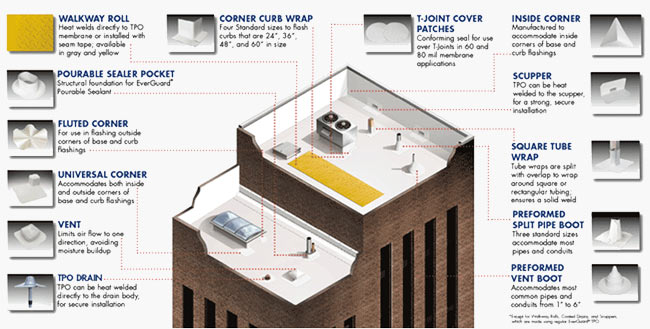 EverGuard® TPO Accessories Roofing Components
Field fabrication of  accessories is time-consuming, costly, and inconsistent, and can lead to unreliable details that compromise a watertight roofing system. EverGuard® TPO prefabricated accessories deliver consistent quality and eliminate the worry and problems often associated with field fabrication. They can also boost productivity up to 200%,** while reducing installed cost by up to 12%.
What were the results of the largest ever independent TPO Study?
Watch this short video or view the key findings and  
full study
 here.